21.03.2023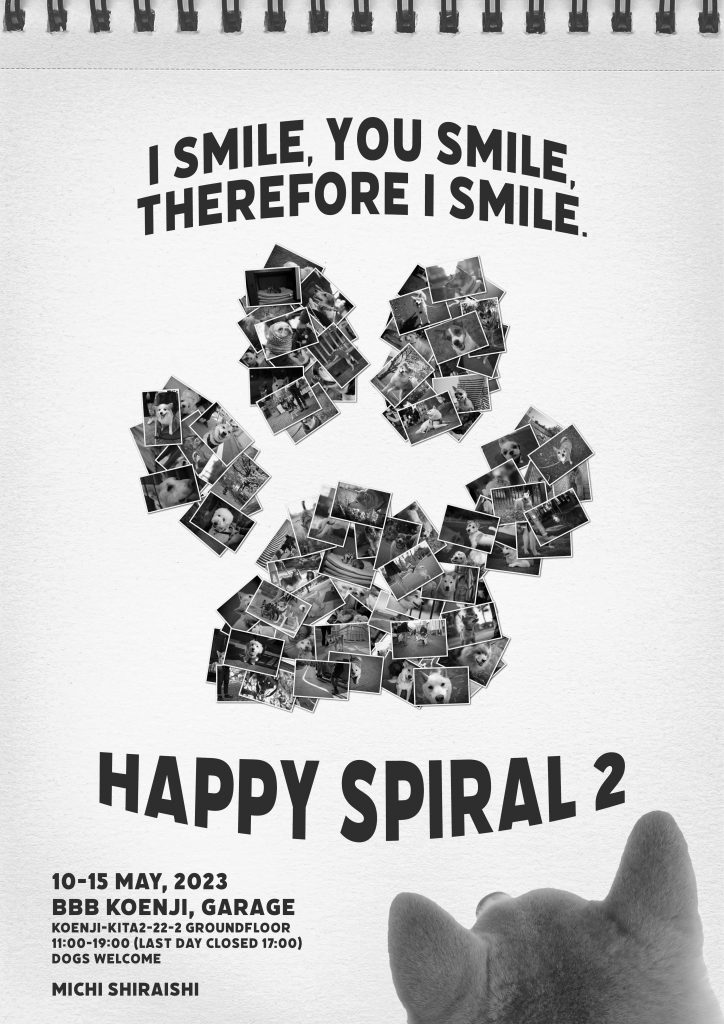 I smile, you smile, therefore I smile.
Happy announcement: Photo exhibition "Happy Spiral 2" will be held in 10-15 May, 2023 in Tokyo.
I took 101 dogs' photos (Angel no,1-101) on Happy Spiral Project in January 2023, therefore the photos will be on the wall on the garage in Koenji, Tokyo. The 101 smiles will brighten you up there.

I believe that the power of "smile" will be contagisou and we can make PEACE all over the world, simply by smiling. Please join us with your smile on the exhibition "Happy Spiral 2" in coming May. Many smiling will be spiraling as happiness. I am waiting for your coming. Of course, welcome with dogs!! May this world be filled with smiles.
僕が笑うと君が笑う、だから僕は笑うんだ。
写真展「ハッピースパイラル2」のお知らせ
2023年5月10日〜15日 東京の高円寺のガレージで写真展を行います。ハッピースパイラルのエンジェルさん1番から101番までの写真をドーンと展示いたします。誰がか微笑み、また誰かが微笑み返す、笑顔は伝播していき、きっと微笑むだけで世界平和が叶うと信じ、日々活動をしております。小さな場所ですが、ご来場くださる皆様と101のエンジェルさんと共に世界に向けて笑顔を発信してまいりたいと思います。一人でも多くの皆さまにお越しいただけるよう現在展示に向け、準備をしております。皆さまどうぞよろしくお願い致します。この世が笑顔でいっぱいになりますように。
Michi Shirasihi 白石みち